"London-based artist Catarina Diaz creates art pieces aiming at your grasp of inner beauty. Her minimalist collages inspire the search for deeper meaning, challenging the viewer to find the rare centre inside that makes embracing beauty possible... all of it, with its imperfection, its duality and transcendent existence. Catarina's art envelopes your senses slowly, calling for them in subtle but exquisite ways."
- Iva Troj, Fine Artist, Novelist
"Very, very transcendent pieces mixing realism with naturalism and spirituality."
- Maeve Doyle, BBC Art Critic, Curator
Catarina's vibrant and colourful early-life recollections, juxtaposing feminine figurative interpretations with surreal arrangements and London's cosmopolitan life, celebrate life, the nurturing nature and bliss to quiet chaos and reconnect to essence.
She collaborates with other artists, designers, film-makers and musicians on multiple projects.
Her work has been awarded multiple times for artistic merit, recognised by the President of Portugal and represented in digital installations, exhibitions and art fairs in London, New York, Paris, Milan, Lisbon, Brussels and Brazil.
It has also been on Portuguese and Canadian TV shows, BBC Jo Good's Vlog and in art and lifestyle magazines such as Artist Talk Magazine, The Flux Review, The Japanese 365 ART, House & Garden, The World of Interiors, Tatler, Vanity Fair and Vogue.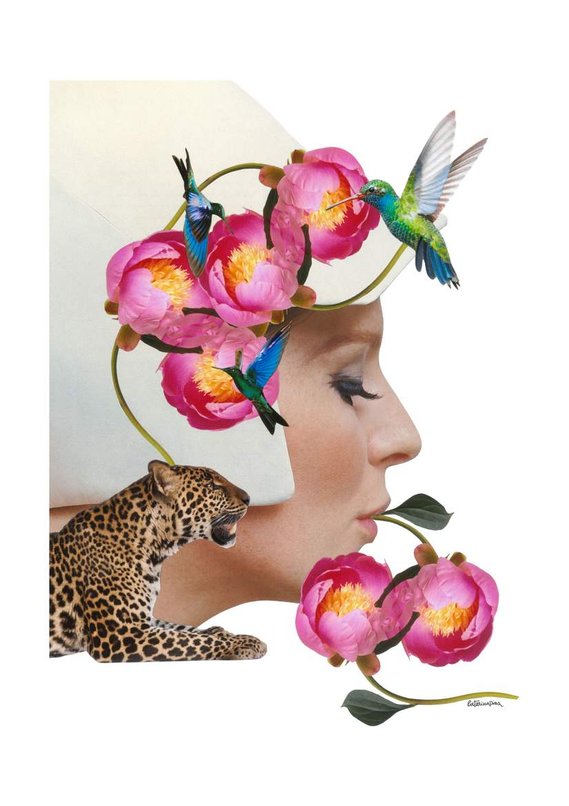 I drew and painted since ever, inspired by my very artistic family. I spent my early infancy in Africa, and when I moved to Portugal, at the age of five, my mother, my very first reference in art, coloured my early memories with a vibrant colour palette of African tones. The deep orange sunsets, the vibrant pink flamingos and the magenta of the bougainvillaea were burnt into my imagination.
After a career in Teaching, PR and International Relations in Portugal, alongside which I was always creating, I embraced the cosmopolitan life of London, which became another daily inspiration for my Art.
A seminal masterclass with Royal Academician artist David Mach opened mixed media to me in a completely unexpected way, and I have never stopped creating since.
As an artist, I relish working on analogue collage compositions on paper and canvas, mixing various media, such as oil-sticks and acrylics. I am now starting to explore digital art and interior design, collaborating with other artists.
I consider my Art an invitation to reconnect to nature and ourselves. By juxtaposing urban life and nature, my pieces aim to evoke contemplation and, ultimately, with its story telling, a return to memories of more serene times as the start of a self-healing and empowering journey.
The enigmatic feminine figures akin to the relaxed presence of the wild motifs express my admiration for the feminine universe and serve as the recreation of my own identity, suggesting that nature can offer us the ability to restore tranquillity in a chaotic world. This is my inspiration: a message of hope and beauty, life and rebirth.
In 2021 my work was exhibited on a digital installation curated by W1Curates on Oxford Street, London, and I participated in exhibitions across Europe. I was also part of a virtual exhibition curated by Voss Gallery, in San Francisco.

I had a permanent solo exhibition in the set of the Portuguese TVI show Cristina Comvida aired in prime time for almost a year, and I was invited to be in this programme to talk about my work. I was also featured on the TV lifestyle programme Viva Vida.

I am a resident artist at M.A.D.S.Milano and I have been exhibiting in their galleries in Milan and Canary Islands.
In 2021 I also exhibited with Monat Gallery in Madrid and had two collective exhibitions in Portugal, besides participating in the Focus London Art Fair, with an exhibition at Fitzrovia Gallery and an Art Show at the Saatchi Gallery Museum.
I was also represented by Monat Art Gallery at the Art3f International Contemporary Art Fair in Paris in September and by VanGogh Art Gallery at the Art3f International Contemporary ArtFair Brussels in November 2021.
Later that year, I had an online solo exhibition curated by Albe Art Gallery from AbuDhabi, United Arab Emirates and participated in two collective permanent exhibitions curated by São Rafael Galleries in Lisbon, Portugal.
My pieces have also been several times featured in B.B.C. Radio Host Jo Good's Middleagedminx Vlog, Portuguese online magazines, and iconic British magazines such as House & Garden, The World of Interiors, Tatler, Vanity Fair, London LifeMagazines, and Vogue.
The art magazine ArtistTalk Magazine has been featuring my work since their special April 2021 issue"Art in isolation". I was also invited to be a member of this magazine whose publications go to the British Library legal deposit, a part of English law since 1662.
The Contemporary Art Magazine has also featured my work and has awarded me the Collector's Vision International Art Award for outstanding achievements and potential.
The LuxembourgArt Prize awarded me the Certificate of Artistic Merit for 2021.
Furthermore, I was also featured in the Artists Anthology, Contemporary Artists 2021: Madrid Edition, curated by Guto Ajayu Culture, presented at the Fine Arts Circle in Madrid and I was recently featured in the Goddess Art Magazine, the Japanese 365 Art Magazine and The Flux Review Magazine.
I was also interviewed for the Stella's Studio TV Show on Camoes TV, Toronto, Canada.
I recently launched a limited-edition luxury interior design line in collaboration with the Portuguese designer Joana Sá Cabanelas and the brand J.U.U.X. It is currently represented in several Portuguese designer shops, at Sao Rafael Galleries and the store of the University of Porto. Soon it will also be represented at the store of the Maat Museum in Lisbon.
Moreover, I am currently preparing my N.F.T.S. launching. This project will include a collaboration with a digital artist and a music composer.
I have also created a permanent piece for the Davis Museum in Barcelona.
Additionally, in 2022, I have participated in several exhibitions with Sao Rafael Galleries and MADS International Gallery, I participated in a concert/exhibition by the pianist/composer Margin Alexander in Manhattan, New York and I was represented by World Wide Art Books/Artavita at "ArtExpo New York".
I have recently participated in the "A million Squares Exhibition" in Lisbon, curated by Sao Rafael Galleries, ''The Flux Review Exhibition" at the Design District in London, curated by The Flux Review and the Artist Talk Digital Installation in Times Square, New York.
My work was also publicly recognised by the President of the Republic of Portugal, in a special event to honour the recognised hard work of high profile artists in London and worlwide.
I have very recently participated in the "BOOM" art fair and art show at the Carrousel du Louvre, Paris, curated by Focus Art Fair, and a few more VR and digital exhibitions in Lisbon, London, Milan and Fuerteventura.
Last December, I had a solo virtual exhibition curated by HongLee Curators, Paris, and participated at the "Brain Cake-International Art Exhibition" at Casa Milà La Pedrera in Barcelona, curated by M.A.D.S. A.R.T. Gallery. I'm currently participating at the The FLUX Review – Winter Virtual Exhibition, and was part of a digital exhibition at the Pavart Gallery, in Rome, this January, curated by my Portuguese Art Gallery, São Rafael Galleries.